Asian hate crimes on the rise
Since the beginning of the COVID-19 pandemic fears of getting the disease lead to widespread hate crimes targeted towards Asian and Asian Americans. Analysis from police department statistics shows an increased spike of anti-Asian hate crimes throughout major cities.
The Center for the Study of Hate and Extremism which released the analysis showed that hate crimes overall have decreased 7% but saw an increase of Asian hate crime by nearly 150%. In New York alone during 2020 there were 25 more Asian hate crimes committed as compared to the previous year which only saw 3. Moreover, why these numbers are on the lower side is due to what is defined as a hate crime with many other unaccounted cases.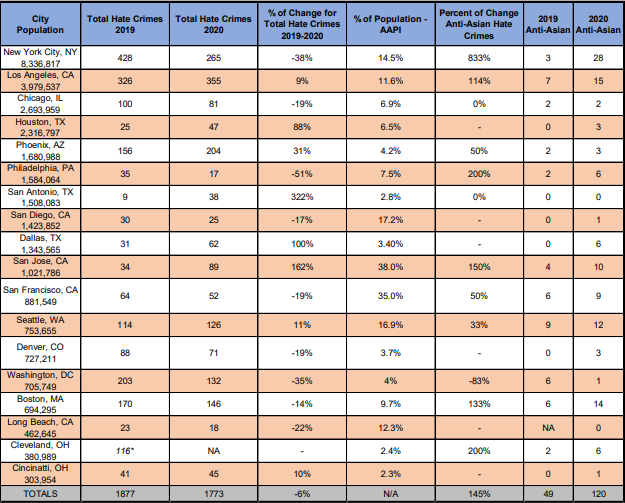 Source: Curated Database by CSHE, Drawn from data by policing agencies
Lee Wong, an Ohio Official who served 20 years as an active duty member in the army expresses his concerns about anti-Asian racism and Asian hate crimes. He is seen in a video that went viral where he starts to undress his shirt and reveal scars across his chest that were obtained through his service in the military. "Prejudice is hate, And that hate can be changed. We are human. We need to be kinder, gentler to one another. Because we are all the same. We are one human being on this Earth." Said Wong.
2021 has seen much activity in its earliest months. On March 16, 8 people were killed across 3 different spas in Atlanta, Georgia. Six of the victims were Asian however, police say the suspect's actions were not racially motivated. March 17, saw another incident where a 75-year-old Asian American woman named Xiao Zhen Xie was attacked in San Fransico, California. Video shows her beating the suspect with a wooden bat where he was later arrested and identified as Steven Jenkins, he was also found to have beaten 83-year-old Ngoc Pham.
As of March 29, a video shows a man kicking a 65-year-old Asian woman in the stomach repeatedly while others stood by and watched. Witnesses say he could be heard spitting anti-Asian statements, this is the most recent of hate crimes with unfortunately many more to come. A report made by Stop Asian American and Pacific Islander(AAPI) hate has disclosed nearly 3,800 hate incidents occurred throughout the pandemic so far.