The banning of gaming PC's in California
Why are gaming PCs banned?
Certain prebuilt gaming PCs are banned in various states across the United States due to recently passed power consumption laws. PC models of Alienware, Aurora R10, and Aurora R12 have been banned in states such as California, Colorado, Hawaii, Oregon, Vermont, and Washington for passing the power statutory which went into effect recently in July 1, 2021.
With this going into effect, Dell can no longer legally sell certain Alienware gaming PCs. Customers who are willing to order these specific PC models will be warned and that their demand for this product will not be shipped if it resides in one of the affected states. This is because the Aurora R10 and Aurora R12 are built from one of the latest CPU processors known as Intel and AMD which are heavily consumed by power consumption. Unfortunately, since these two model configurations comply with the power consumption regulation they will only ship outside of those six states.
Who created this new restriction?
In a California energy-related bill which were introduced in the 2017-2018 legislative session, AB 726 (Holden, D): Electricity: tiered rates: notification of usage, states that
"If enacted, AB 726 would require an electrical corporation to notify a residential customer in a reasonably expeditious manner when the customer's usage of electricity will cause the customer to be charged for additional electricity consumption at a higher tiered rate during a billing cycle. The bill would additionally require an electrical corporation providing service to a residential customer pursuant to a tiered rate structure based on usage to notify the customer that the customer may receive notification of the customer's electricity usage as required by the bill, the manner by which the customer can provide appropriate contact information."
The new restriction comes from the idea that California is one of the largest economies and the nation's fourth-largest electricity producer. When it comes to power consumption and its driven numbers, the state of California viewed this and began releasing new restrictions for certain electronic devices such as personal computers. Since the inconvenience of this ban, there is a new planet-saving regulation that prompts Alienware and other gaming software companies to find more power-effective hardware solutions.
Power Usage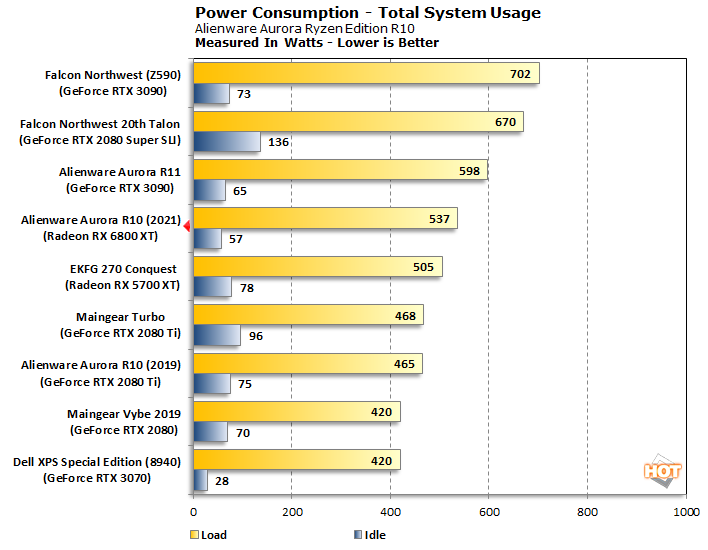 Aurora R10 and Aurora R12 generally come with a 550w depending on if it's custom or pre-built. According to the graph, while idle it will remain at 57 watts usage and when loaded will skyrocket to a maximum of 537.
How many watts are you using?
Figuring watts per day:
550 watts x 24 hours = 13,200 watts-hours per day
Converting to kilowatts:
13,200 watt-hours per day / 1,000 = 13.2 kWh per day
Figuring usage over a month:
(13.2) x 30 days = 396 kWh per month
(396) kWh per month x ($0.10) per kWh = $39.60 per month
While summing up the amount for the Aurora R10 and R12 watts usage, daily would be about 13,200 watts usage every 24 hours. Converting to kilowatts would be 13.2 kWh per day. Lastly, monthly usage would make your electricity 396 kWh per month. Thus, alone you would be paying approximately $39.60 per month for the electricity bill.
Alienware Aurora R10 and Aurora R12 specs:
Aurora R10:
CPU: AMD Ryzen 7 5800X (4.7GHz boost)
Graphics: Radeon RX 6800 XT
RAM: 32GB HyperX Fury @ 3,400MHz
Storage: 1TB M.2 PCIe NVMe SSD + 2TB 7200RPM SATA 6Gb/s
Aurora R12:
CPU: 11th Gen Intel® Core™ i7 11700F (8-Core, 16MB Cache, 2.5GHz to 4.9GHz w/Intel® Turbo Boost Max)
Graphics: NVIDIA® GeForce RTX™ 3060 Ti 8GB GDDR6
RAM: 16GB Single Channel DDR4 XMP at 3200MHz; up to 128GB
Storage: 256GB M.2 PCIe NVMe SSD (Boot) + 1TB 7200RPM SATA 6Gb/s
Leave a Comment