The Hall of Fame Bella Twins
The Bella Twins are a professional wrestling tag team who performed on WWE and consisted of identical twin sisters Brie Bella and Nikki Bella. The Bella Twins are both former Divas Champions, with Nikki having held the title two times and Brie once. Nikki is also the longest-reigning holder of that title. There are only a few ways to know which is which is and one is that Brie Bella is with Daniel Bryant and Nikki Bella used to date John Cena. Another way to tell them apart is the hair, Nikki has longer hair then her sister.
Firstly, congratulations are in order for Nikki and Brie Bella, who will be inducted into the WWE Hall of Fame during WrestleMania weekend. The news was announced during their appearance on 'A Moment Of Bliss' this past Friday, on SmackDown. Nikki Bella holds the record as the longest-reigning Divas Champion as well, at over 300 days. She even made a miraculous return to the ring after career-threatening neck surgery, while Brie wrestled a few matches after having her first baby with Daniel Bryan.
The Bella Twins were signed to developmental contracts by World Wrestling Entertainment (WWE) in June 2007 and were assigned to Florida Championship Wrestling (FCW), WWE's then-developmental territory, in Tampa, Florida. They then resumed their feud with Neidhart and Crawford, wrestling them throughout much of 2008.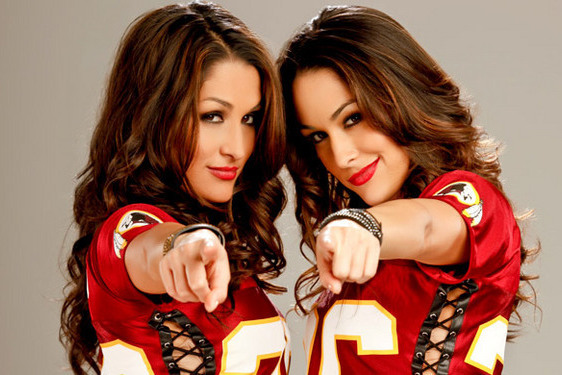 Nikki and Brie knew from the start that they would end up on television. They mentioned that they always wanted to have their own reality show. "From day one we've wanted to have our own reality show and when Total Divas came about we were very excited, and we still wanted to do more beyond that because just like the Latino family and the Italian family we have a very big family and a very entertaining family.
Nikki And Brie Bella have gone on to become two of the biggest names in reality television and are still making plenty of headlines – despite their absence from Raw and SmackDown.